Are you searching for catering for a funeral service? There are several ways to arrange a funeral buffet without adding more stress.
Most funeral directors have their own network of caterers. This is because funeral wake catering requires careful consideration; from ritualistic foodstuff to the very meals you eat.
However, if you intend to find your own catering — read on!
1. Understanding your volume
Nobody can ever be fully prepared for losing a loved one. Budgets are typically tight. It is just the way funerals are.
It is difficult to predict how many family members or friends will show up in person or call in support. More so, it is also difficult to consider how long they would stay.
Hence, a good guideline would be to cater directly to your immediate family (or family members involved in the rituals); then add 30% on top of that.
It is better to order more than to leave your loved ones starving.
Similarly, it is important that you know how long you want your wake to last. Of course, if you leave catering to your funeral director, then that would not be an issue.
2. Type of funeral held and religion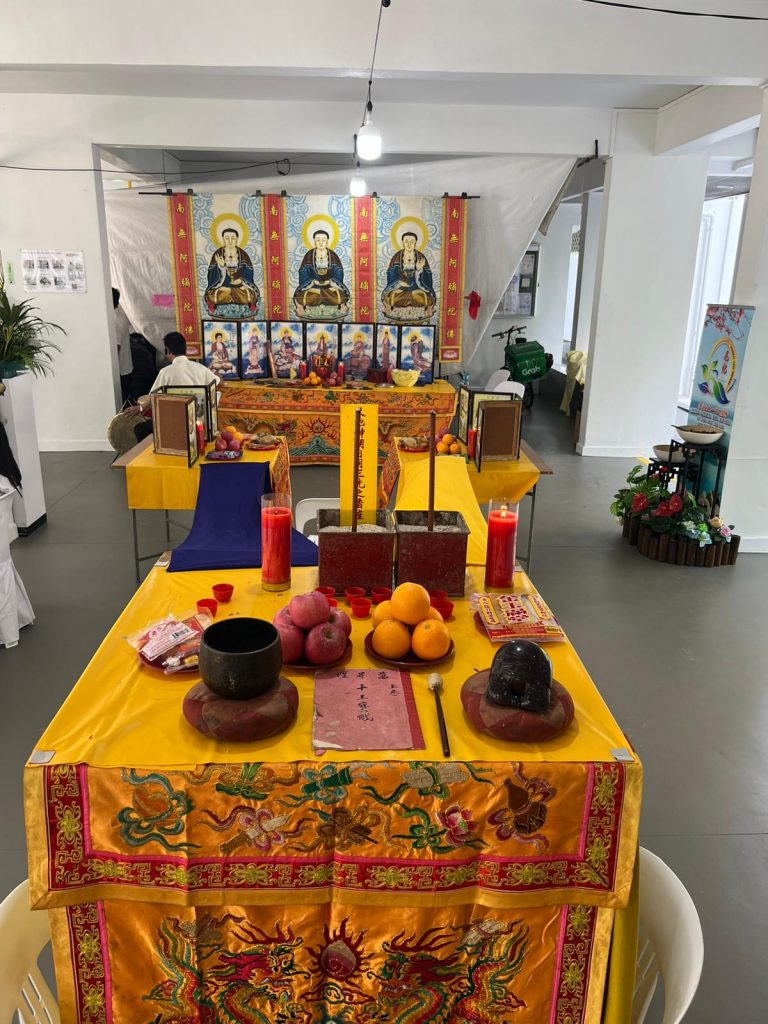 As a multi-religious and multicultural society, Singapore has a variety of funeral practices that we must follow. For instance, a Buddhist funeral differs from a Taoist funeral or a non-religious funeral.
The caterer may better design the meals if they are aware of the type of funeral being held and the religion being observed. For example, a Buddhist funeral will call for vegetarian catering services, thus no meat dishes should be served (this is of course dependent on your sect).
As mentioned, the caterer might also have to prepare funeral food. Hence, do check with the funeral director if that is necessary. Most times, funeral wake food for rituals is prepared by other entities.
3. Prayer session start times
The catering service needs to know the prayer session start times so that they can work backwards from that point and make sure that everyone has enough time to eat dinner.
This is not as straightforward as it seems — especially when your caterer cooks their food offsite. Delivery before prayer start times would need to be timely, which can be difficult to ensure since evening traffic is often the buzziest.
Hence, we recommend that you engage an onsite catering service or a catering service that is consistently punctual.
4. Budget
The caterer will stay under the allotted spending limit. Managing the cost is essential to making sure expectations are met, regardless of whether the family is seeking a cost effective catering in Singapore or one with a bigger budget.
5. Point of Contact
The caterer needs a minimum of two phone numbers (main point of contact and another contact). It is also best to introduce your caterer to the funeral director for increased coordination.
6. Table arrangement
The caterer may plan the table arrangement to showcase the dishes in food warmers, complete with table setting and plates and cutlery, based on the space allotted for the food area, present layout, and organization of the funeral.
7. Dietary requirements
Ensure that the food you order adheres to the dietary restrictions of your family!
Additional foodstuff
Afternoon tea: When people are sitting at tables in a public setting, afternoon teas function effectively. While exchanging stories and keeping up with one another, guests can have peanuts and snacks.
These days — afternoon tea usually comes in the form of catered tetra drinks that are chilled.
Finger foods: To satiate hunger, something more substantial than afternoon tea is required. For finger buffets during wakes, fried battered food is frequently chosen. It is also not uncommon for family members to order Bubble Tea or Chicken Wings overnight.
Conclusion
In Singapore, food is typically served during funerals as a way of saying thank you to the mourners' loved ones and friends for attending.
The departed's family members will ensure that the food served during the wake is of a specific calibre, is reasonably priced, and accommodates the visitors' varied palates.
Funeral catering is often done in a buffet style or a banquet format and is frequently done at short notice. Hence, it is often best that clients allow funeral directors to handle their catering service.
There are still customizability options, however, as you may like to have live stations where food is prepared right on the spot — or a caterer who delivers food.
If you are looking for a caterer; or someone to plan a funeral wake — look no further! With over a decade of experience as undertakers, we specialise in Chinese-style funerals that are steeped in complex tradition. We are also eclectic enough to handle Christian, Catholic, Sokka Gakkai and freethinker requests.